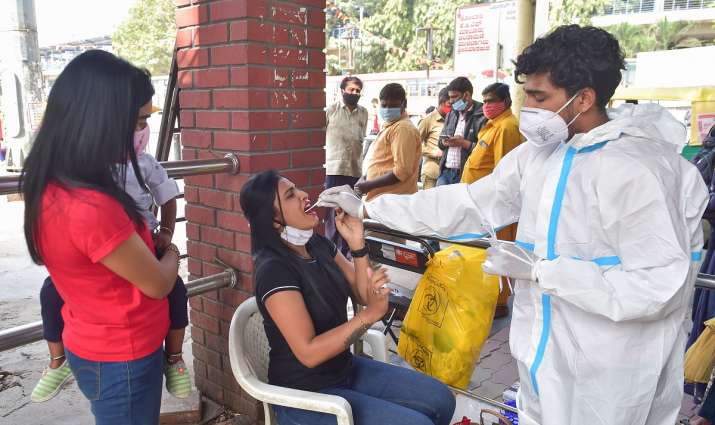 Highlights
Maharashtra on Saturday reported 41,434 new coronavirus cases, a new high, and 13 deaths.
Mumbai reported 20,318 fresh Covid-19 cases on Saturday, and five deaths.
On Friday, Maharashtra's capital reported 20,971 fresh Covid-19 cases
Maharashtra Covid-19 update: Mumbai reported 20,318 fresh Covid-19 cases on Saturday, and five deaths, according to an official statement by the MCGM. The active cases tally in the country's financial capital was recorded at 1,06,037. 
Meanwhile, Maharashtra on Saturday reported 41,434 new coronavirus cases, a new high, and 13 deaths, health officials said. It took the state's infection tally to 68,75,656, and death toll to 1,41, 627. There are 1,73,238 active cases in Maharashtra at present.
The state government announced new restrictions including ban on movement in groups of five and more in public places during daytime from January 10 midnight. As many as 1,95,844 coronavirus tests were conducted on Saturday, taking the total of samples tested to 7,03,42,173. As many as 9,671 patients were discharged from hospitals after complete recovery, taking the tally of recoveries to 65,57,081.
Recovery rate in the state is 95.37 percent and case fatality rate is 2.05 percent. State capital Mumbai reported 20,318 cases and five deaths. The larger Mumbai division reported 33,134 new cases and six deaths. Nashik division reported 1,392 new cases including 846 in Nashik city.
On Friday, Maharashtra's capital reported 20,971 fresh Covid-19 cases, amid rising Omicron cases in the state, apart from cases of the infection. 6 people succumbed to the infection in the last 24 hours. Today's cases are marginally higher than yesterday when the city reported 20, 181 cases. 
Follow Omicron LIVE updates HERE